DawnWong's Personal Home Page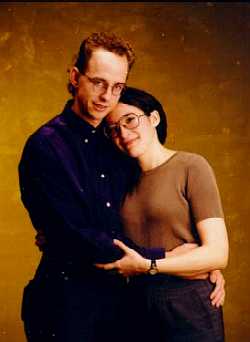 I live in Portland, OR, doing temporary clerical work and running a home-based business. My husband used to live in Vancouver, British Columbia, before we got married in April. I graduated from high school in 1993 from Auburn Adventist Academy , and I have three years of college experience at Walla Walla College. My favorite brother is a computer programmer, not to mention my only sibling.

I like most kinds of music, but I am especially partial to new age and 80's rock. My other interests include reading (sci-fi, fantasy, historical fiction, etc.), writing (nothing spectacular yet), playing the piano (though I am woefully out of practice), modeling, filmmaking, nature, beauty and being a good friend/listener.

Music

I love to listen to music and make music (on the piano).

Reading

I read mostly fiction (science fiction, historical fiction, fantasy, mysteries) but I also like some non-fiction, self-help books, comics (Far Side, Calvin & Hobbs, Dilbert, Garfield, etc.), and mythology.

Computers

Computer games, HTML, the Internet, email...I'm sure I would find something to keep me occupied if I didn't have my computer, but I would miss it terribly.

My Favorite Sites


I love getting E-Mail! Please let me know what you think about my home page; constructive criticism is welcome!

All Contents Copyright.
Last revised: 7/9/99
hits